Make a Donation Today!
Our generous donors make it possible for Pink Ribbon Connection to provide free support and resources to more than 1,000 breast cancer patients in all stages of treatment and survivorship.
One in 8 women will be diagnosed with breast cancer in her lifetime.
Without your support, thousands of Indiana patients and families will be alone in their hour of need. Won't you help Pink Ribbon Connection meet the need for personalized services, many of which can't be found anywhere else?
Purchase a set of 10 notecards & envelopes. Each card is printed with the pink vintage sweater designed by Sarah Anderson. All profits and sales go directly to Pink Ribbon Connection.

Click here to get your set today!
Traveling Pink Sweater Note Cards
Donate Online
Donate by mail
Pink Ribbon Connection
1139 Shelby Street
Indianapolis, IN 46203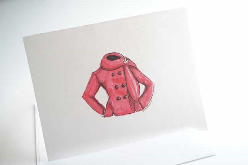 Other Ways to Get Involved